An Introduction to Maria Montessori for Children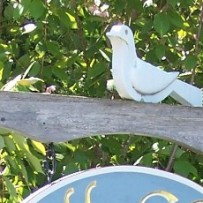 Our School Director, Michelle Vogel, tells this story to children at our Peace Pole Ceremony in October. Each year, we gather on United Nations Day to rededicate our Peace Poles at the Children's House and the Toddler House.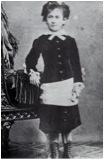 A long, long, long time ago, before your parents were born and even before your grandparents were born, a little girl was born in a small town in Italy. Her name was Maria Montessori. When Maria was a little girl, she enjoyed going to school and knew at a very young age that she wanted to learn to be a doctor. Her father told her she could not. He told her that only boys could be doctors and that she would have to be a teacher or a nurse. But Maria did not want to be a teacher! She did not think it was fair that only boys could be doctors and decided she was going to study to be a doctor. Often Maria had to study alone because she could not work with the boys, but she did not mind. Maria studied very hard and became the first woman doctor in Italy!
Her fist job after getting her degree was to work in a hospital with sick children. When she got there she noticed that the rooms looked very sad. They did not have any pictures on the walls or p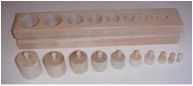 ets or plants around the room. She noticed the children did not have any toys to play with or books to read. Maria Montessori did not think the children were very happy. She decided to make their rooms attractive and made the children some toys. One of the works she made them was the Pink Tower. They liked to build with it. She continued making them materials like the knobbed cylinders and the Broad Stair. Maria and the other doctors at the hospital noticed the children getting better quicker and that they were learning easier.
Soon after, Maria Montessori was asked to teach some children in an apartment building in a very poor part of Italy. Maria decided to take on the challenge even though she didn't really want to be a teacher. She wondered if she used the toys that she made for the children in the hospital if these children would also learn quicker. Maria Montessori noticed the children loved working with the materials and kept making more. People from all over came to see the children working at Montessori's school. They were impressed by how busy the children were working all by themselves and how much their learning had advanced.


Maria Montessori noticed the children helping each other to learn. She noticed they were kind to each other. She thought that helping children to be respectful to each other, to nature, and to all the things in the classroom was an import part of her school. During this time many of the adults were fighting and there was a big war going on. Montessori thought that if the children learned how to be peaceful then they could show the adults how to solve problems with kind words too.
At Winfield the children practice being peaceful every day. They help their friends with works and unpacking their lunches. They hold doors open for each other and help to tie shoes and zip coats. The children at Winfield share the swings and balls on the playground and invite friends to join their games. If Maria Montessori were to visit Winfield she would be very happy to see all the peacemakers still doing her most important work.