Teachers Attend AMS Conference: In-Service Friday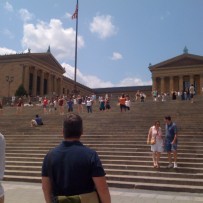 There will be no school for children on Friday, March 13, at Winfield Children's House. A team of teachers and administrators will be traveling to Philadelphia for the American Montessori Society Annual Conference. There will be teachers from the infant, toddler, preschool and Kindergarten programs attended.
This year's conference theme is "Life, Liberty, Montessori" in honor of the history of Philadelphia. The conference is expected to draw 2,000+ Montessori educators from around the USA and internationally.
Keynote speakers include author Jennifer Senior. Her recent book All Joy and No Fun: The Paradox of Modern Parenthood has earned acclaim for its unique perspective on the challenges American parents face in the 21st century.  Julian Bond will give the Nancy McCormick Rambusch Lecture on Friday. He has been a leader in the Civil Rights movement for many years, including positions of political office in the state of Georgia and President Emeritus of the Southern Poverty Law Center.
In addition, workshops, networking events and an exhibit hall will help teachers to gather new ideas and return to school full of inspiration.