How the Young Child Masters Executive Function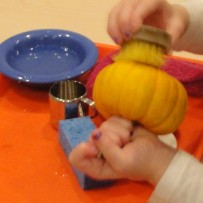 The staff who were able to attend the American Montessori Society Annual Conference in Philadelphia this past weekend are returning to school with a wealth of resources about teaching and learning.
One term that was popular in workshops and keynotes was "executive function." The latest research in neuroscience is giving educators a lot of insight into how the brain learns. A metaphor for executive function is the "air-traffic control" of the brain. In other words, the mechanisms that allow concentration, organization, flexibility and the ability to filter distractions. Research is showing these abilities are teachable. Montessori programs are able to provide an environment to let these skills unfold with the long, uninterrupted work time and age-appropriate materials that isolate skills and allow for independent discovery.
Twin Parks Montessori in New York City shared this excellent video explaining more about executive function in young children.
If you would like to learn more about how to support your child in developing executive function, you may wish to mark your calendar for an upcoming lecture sponsored by the Maine Montessori Association and North Yarmouth Academy. It's offered by psychologist Stephen Hughes and entitled, "Building Better Brains." The event will take place Friday, March 26, from 6:30-8pm at the North Yarmouth Academy Savage Middle School Gymnasium. The event is free and open to the public.
If you aren't able to make it to the lecture, you may wish to bookmark this video from Dr. Hughes website.
Building Better Brains from Steve Hughes on Vimeo.