Montessori Teacher Training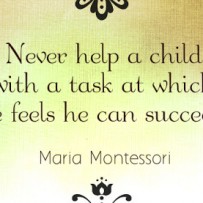 Winfield Children's House is home to the Maine Montessori Institute (MMI), a teacher preparation program for Early Childhood Montessori education. MMI is accredited by MACTE, the Montessori Accreditation Council for Teacher Education. Teachers who successfully complete the program are eligible to receive an American Montessori Society certification for teaching children ages 3-6.
MMI is also affiliated with the University of Southern Maine. MMI offers a M. S. Ed. in Teaching and Learning with a specialty in Montessori Education through the USM School of Education and Human Development. Teachers completing the Master's Degree program are also eligible to take the Praxis II exam to earn a teacher certification from the State of Maine for ages birth-five.
MMI offers wonderful benefits for Winfield Children's House. First, it attracts wonderful teachers. Our preschool classrooms often hosts intern teachers who are completing their year-long practicum and internship through MMI. The MMI program draws teachers with a variety of backgrounds and experiences who enrich our classrooms. MMI also allows us to incorporate the latest innovations and requirements for teacher training into our curriculum, ensuring that the quality of Montessori education experienced by children at Winfield is of a national caliber.  Finally, MMI allows the teachers to model the kind of inquiry that we wish to instill in our young learners. The teachers and staff are learning and teaching one another and seek to know more through the training program. The children are aware of the intern teachers who arrive from other schools each Tuesday night for classes and know that their own classroom teachers assist in the set-up and teacher training. Winfield Children's House is a richer place because of the Maine Montessori Institute.
To learn more about the teacher training programs and the partnership with the University of Southern Maine, visit the Maine Montessori Institute website.